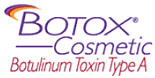 The beauty of a BOTOX® in Las Vegas, NV is the reduction of wrinkles. With our cosmetic treatment, it is that it's simple. It is a 10-minute, non-surgical process. A few tiny injections, and within days there can be a noticeable improvement in the moderate to severe frown lines between the brows that can last up to 3 months. This is why so many Las Vegas residents are seeking BOTOX® injections.
Results may vary. And there's no recovery time. Our Las Vegas BOTOX® Cosmetic is administered by a licensed healthcare professional as a simple, nonsurgical treatment that is injected directly into the muscles between the brows. It works by blocking nerve impulses to the injected muscles. This reduces muscle activity that causes moderate to severe lines to form between the brows.
Your Las Vegas licensed healthcare professional will determine where to administer the injections by examining your ability to move certain muscles in your brow area. The location, size, and use of the muscles that create a furrowed brow vary markedly among individuals.
No anesthesia is required, although your licensed healthcare professional may choose to numb the area with a cold pack or anesthetic cream prior to injecting. Discomfort is usually minimal and brief. BOTOX® Cosmetic injections are one of the most frequent procedures we perform at DermaBella Medical Spa.
Time: 15 to 20 minutes
Save Money on BOTOX® Cosmetic with Allergan's Brilliant Distinctions® Program.
The Brilliant Distinctions® Program is an exciting new program that offers a multitude of great rewards when you receive BOTOX® Cosmetic treatments!
To find out more about the Brilliant Distinctions® Program or to become a Brilliant Distinctions® Program member
click here: Brilliant Distinctions® Program
LAS VEGAS BOTOX FAQS
What is BOTOX®?
BOTOX® Cosmetic is a natural, purified protein derived from the Botulinum Type A toxin.
BOTOX® is used to treat facial lines and wrinkles. It is injected into the muscle just under the skin with an ultrafine needle and relaxes facial muscles by blocking nerve impulses. Once the muscles are at rest, the skin becomes smoother, creating a more natural and relaxed appearance.
BOTOX® Cosmetic can also be used to treat underarm sweating.
Results typically last up to 3 – 4 months and continuous treatments are necessary in order to maintain the effects over time.
BOTOX® Cosmetic is a purified protein produced by the Clostridium botulinum bacterium, which reduces the activity of the muscles that cause those frown lines between the brows to form over time.
Is BOTOX® Safe?
Botox is very safe. There is only one strain of the purified protein, which only Allergan has the rights to.Botox was first used for medical reasons before it was used for cosmetic reasons. Children with cerebral palsy may receive up to 800 units at a time to relax muscle contractures. A typical Botox treatment for the face is an average of 45 – 50 units. In 2005, almost 3.3 million procedures were performed with FDA-approved BOTOX® Cosmetic. So, yes, it is very safe.
Men are also doing something about their brow lines
A man who has pronounced lines between his brows may be perceived as angry or stressed — and he doesn't want to look that way. That's why it's not surprising that men are also choosing BOTOX® Cosmetic.
A BOTOX® Cosmetic treatment requires little time out of the office.
So, it's possible to have the procedure done during a lunch hour and head right back to the office.
Does BOTOX® hurt?
Usually, the only pain felt is the stick of the tiny needle, which feels like a bee sting or a bug bite.
How many units of BOTOX® will I need?
Forehead: 12.5 – 25
Between eyebrows: 15 – 20
Crow's Feet (both eyes): 15 – 18
Underarms (both): 50 – 80
These numbers are approximate and the amount used
will vary based on each patient's individual wants or needs.
Will I see results immediately?
No. Botox starts to work in 3 days, with the full effects seen in
about 10 days. Touch-ups, due to undertreatment, maybe
necessary within 10 – 14 days of the initial treatment to
achieve the full effects
How long does BOTOX® last?
Results typically last up to 3 – 4 months and continuous
treatments are necessary in order to maintain the effects over time.
Ready to schedule your Botox Injections in our Las Vegas Location? Give us a call today: 702-228-0491